Jefferson County, WV
Hardened Radio Communications Stations:
Bardane and Summit Point
Introduction
The Jefferson County installations are situated on two small parcels of open land, separated by about 8.4 miles. The facilities have very similar physical configurations, their principal structures being an earth-covered bunker, multiple small concrete foundations with anchor studs, a creosoted-wood pole, and concrete slabs with vents and access hatches. According to a U.S. Army Corps of Engineers report, the sites were purchased by the Department of Defense in 1960, and declared surplus in 1974. Both properties are now owned by Jefferson County. They are badly deteriorated, and were scheduled by the Corps for demolition in December 2003.
Entrance to each bunker is through a commercial-type, windowless steel door which apparently had a peephole. The door is set in a trapezoidal concrete retaining wall which is the most prominent aspect of the facility. Adjacent to the doorway are two small hatches, possibly used to pass cables for temporary connections to mobile equipment.
Inside the door is a concrete stairway with several steps going down to a landing. From there, additional steps continue down to the right. At this point, there appears to be another landing where the stairway turns to the left (i.e. parallel to the first set of steps) and descends further, but no more could be seen from the doorway at the receiver site, and at the transmitter site the steps below the first landing were under water, which apparently filled the entire bunker.
Transmitter Site
This facility is located along the main access road in a county recreational area called South Jefferson Park, about 1.2 miles northwest of the town of Summit Point. The coordinates are 39-15-34 N latitude, 77-58-33 W longitude. The site is not fenced (though it likely was originally) and is surrounded by cultivated fields and parkland.
The Corps of Engineers report states that the underground space is 45 feet by 65 feet, with a 12-foot ceiling height. The bunker is covered by approximately three feet of earth.
Behind the bunker are about 11 concrete foundations. Several of these are in a line, and have just two small (about 5/8" diameter) anchor studs. This suggests that the foundations were for a waveguide bridge. At the end of this line are two larger, triangular foundations, which may have been for a short towers supporting microwave dishes in a "periscope" feed arrangement. In addition, there are four square foundations with four large (1.25"-1.50" diameter) anchor studs. Two studs each on two of these foundations are bent sharply, suggesting that the tower they secured was pulled down.
Receiver Site
The receiver site is at the end of an asphalt-paved driveway in an undeveloped portion of a county-owned industrial park, and is surrounded by cultivated fields. The site is located about 0.9 miles south-southwest of the town of Bardane, latitude 39-21-02 N, longitude 77-52-17 W.
The site is partially enclosed by a decrepit chain-link fence, topped by three strands of barbed wire. The fence, which has been breached in multiple places, appears very old. Its supporting posts are steel I-beams rather than the more-common pipes.
The door is open but the doorway has been partially blocked by a thick concrete slab and a pile of earth, intended to prevent access to the bunker's interior.
Transmitter Site - Summit Point, WV

(photographed December 21, 2003)
Select an image to view a larger version

| | | |
| --- | --- | --- |
| | | |
| | | |
| | | |
Location Map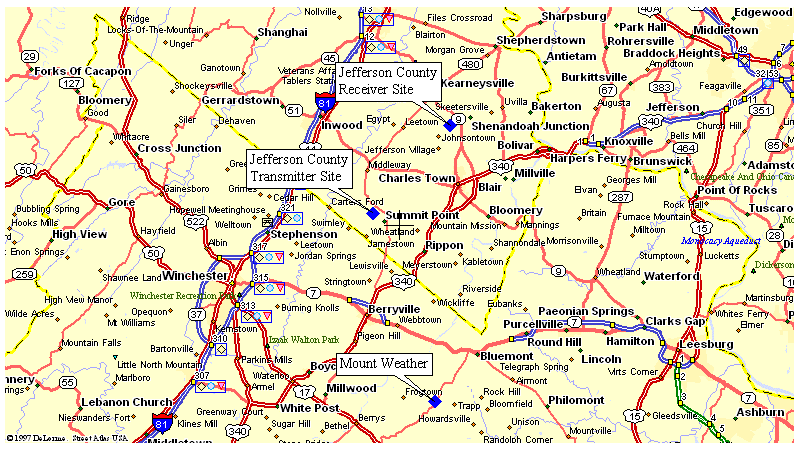 Note: Mount Weather shown for reference only; there is no evidence of a connection between it and the Jefferson County facilities.
Return to...
Created on December 26, 2003 at 12:32 by Albert LaFrance