Interior Department Bomb Shelter
Harper's Ferry, WV
Introduction
A bomb shelter is located under the lawn north of the National Park Service's Stephen P. Mather Training Center, formerly Storer College, off Fillmore Street in Harper's Ferry, West Virginia. The history of the shelter is still being investigated, but available information indicates that it was an emergency relocation site for Department of the Interior headquarters and the Secretary of the Interior.
Personnel access to the shelter is through a metal door, apparently of standard commercial design, set into a retaining wall adjacent to the driveway serving the Training Center's parking lot. There is no vehicular entrance to the shelter, only a parking space in front of the entrance.
The space is now used by the NPS Interpretive Design Center.
Location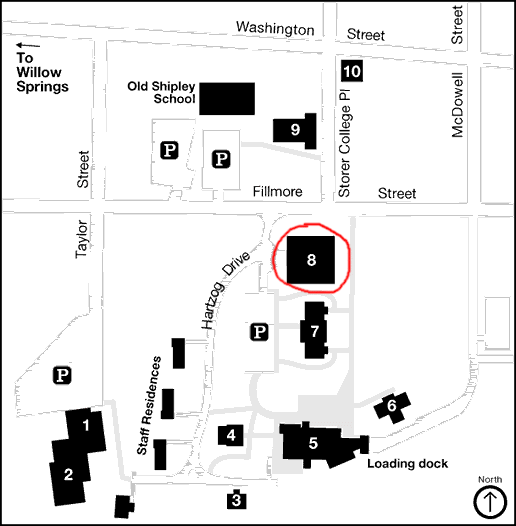 Key to buildings on the Harpers Ferry Center Campus:
Administrative Annex – Acquisition Management, Programs and Budget
Harpers Ferry NHP Maintenance Shop
Bird Brady House – Audiovisual Arts, Information Management, Facility Management, and Support Services
Anthony Hall – Library and Archives
Interpretive Design Center – Audiovisual Arts, Exhibits, Historic Furnishings, Interpretive Planning, Managers Office, Publications, and Wayside Exhibits
Cook Hall Dormitory
Mather Training Center (Wirth Hall)
Bomb Shelter – National Catalog Clearinghouse/Museum Management Program
Curtis Freewill Baptist Church – Human Resources (lower level)
Appalachian Trail Conference Headquarters – private non-profit association
Map and key adapted from National Park Service, Harper's Ferry Campus Map
Image Gallery

Select an image to view a larger version

Bunker entrance

Ventilation structures above entrance

View from Fillmore St.

View from Mather Training Center parking lot

Rear of Mather Training Center
Return to...
Created on July 21, 2001 at 00:18 by Albert LaFrance